Are you looking for a one-of-a-kind engagement ring?
The diamond trade has been a nefarious one since it was founded. (We all know the story about blood diamonds but it goes even deeper than that if you do a little research) That being said, we're hoping we can inspire people to find some better (and cheaper) alternatives.
by Sarah Han
1. A lovely rainbow moonstone ring that will knot let you down.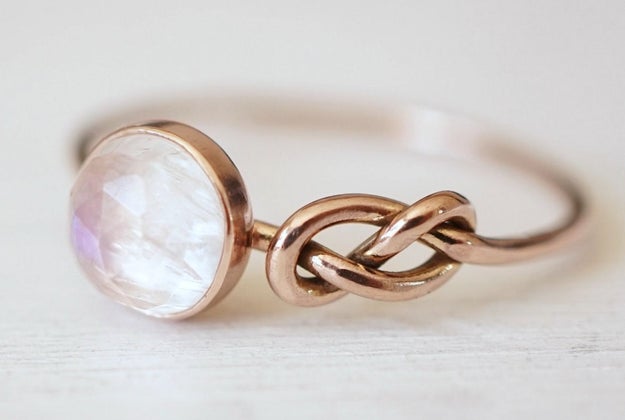 Even for worse, poorer, and in sickness.Get it from Luxuring on Etsy for $205.The same design is also available with opal, labradorite, and many others.
2. A statement black pearl ring that looks like a treasure Ariel dug out from the depths of the ocean.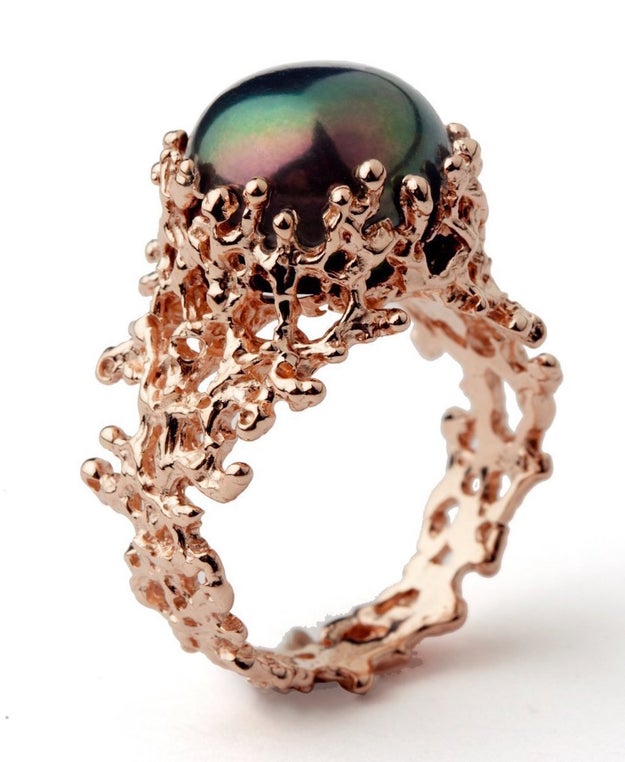 It's pretty flippin' neat.Get it from Arosha on Amazon Handmade for $295. Also available with a white pearl.
3. A watermelon tourmaline ring featuring what looks like suspended magical particles.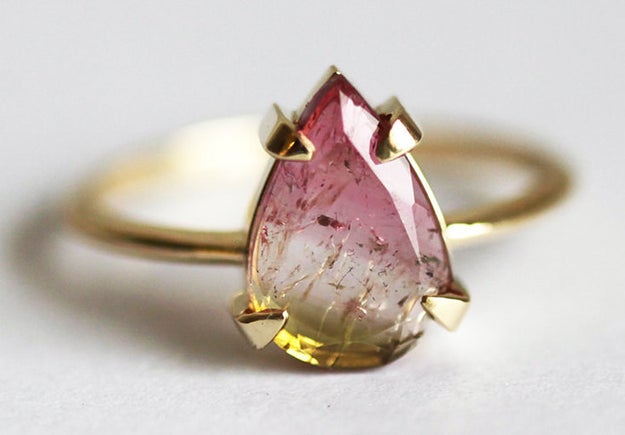 Get it from Minimal VS on Etsy for $480+.
4. A regal gold ring for the person who brings ~24K magic~ into your life.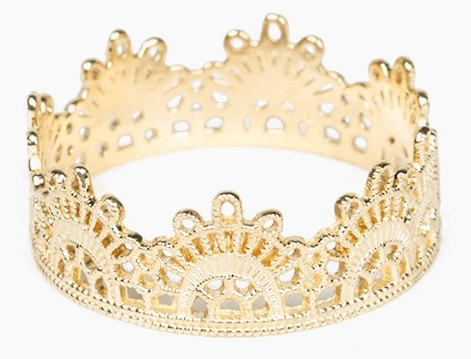 Even if it's really only 14 carats (shh, don't tell).Get it from Grace Lee on Azalea for $670.This ring also comes in a smaller version (height of 3.5 mm instead of 7mm) for $385.
5. A delicate scarlet ruby ring that looks it belongs in a chest of family heirlooms.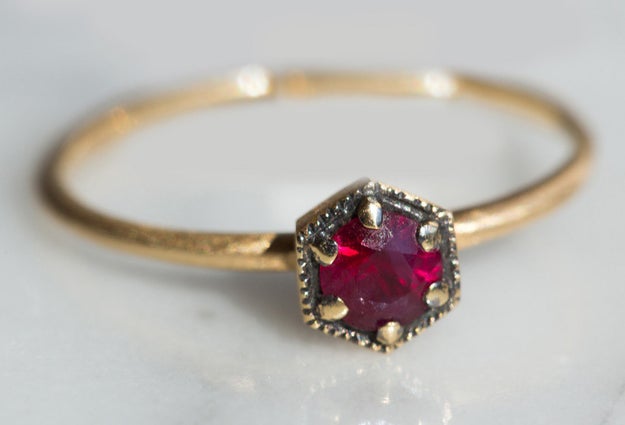 Get it from Satomi Kawakita on Catbird for $2,575.This ring is a similar, cheaper option designed by Lauren Wolf from Of a Kind.
6. An iridescent raw opal ring that's a little rough around the edges.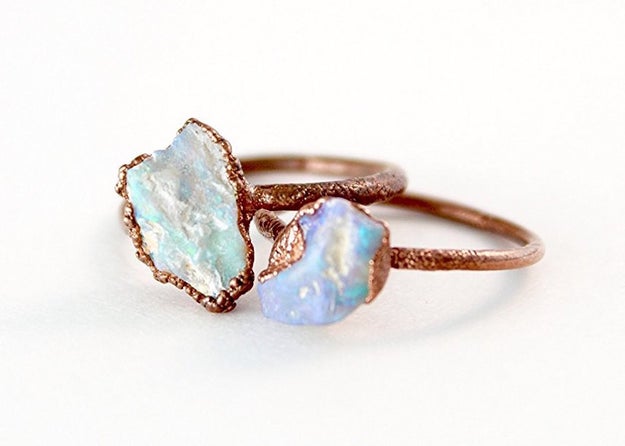 But secretly has a heart of gold.
Get it from The Fox And Stone on Amazon Handmade for $224.99.
7. A three-prong sapphire ring for a subtle pop of the blues.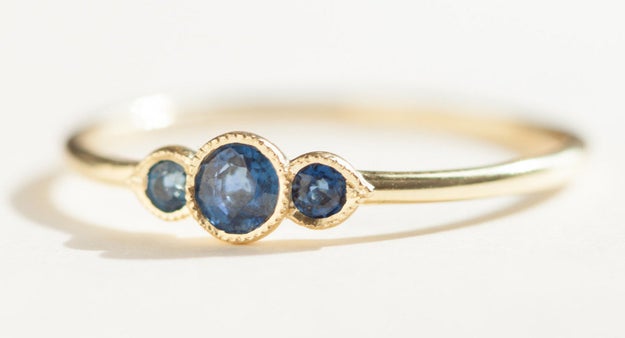 To balance out the insane levels of happiness upon getting this ring.Get it from Ila on Catbird for $575.
8. A stylish ruby ring that's as light as a ~feather~.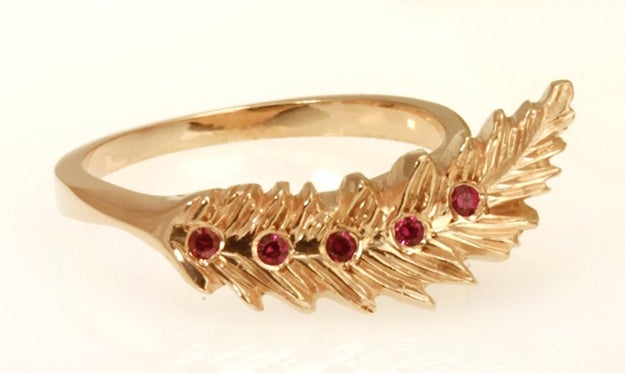 Itty bitty rubies that won't weigh you down (physically, but emotionally too).Get it from Abi M Jewelry on Amazon Handmade for $570.
9. An ethereal grey moonstone and moissanite ring set that proves two rings are better than one.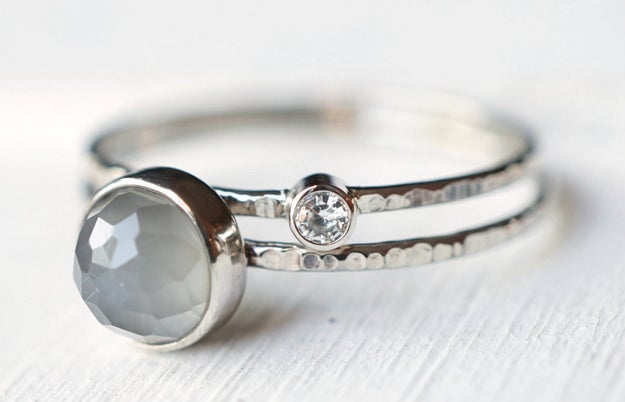 Get it from Luxuring on Etsy for $300.
10. A clustered peach morganite, pink tourmaline, and moissanite ring that'll be the talk of the town.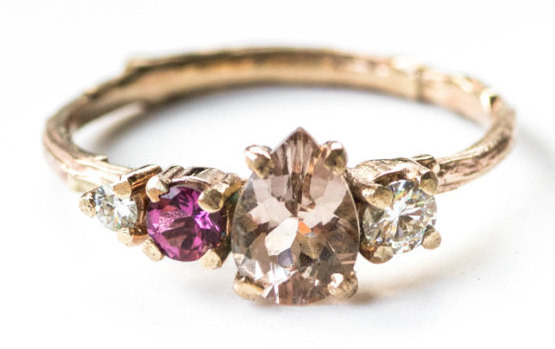 So many jewels you'll have to organize a parade.Get it from Oore on Etsy for $850.
11. A pretty pink and white pearl ring with a look that branches off from the ordinary.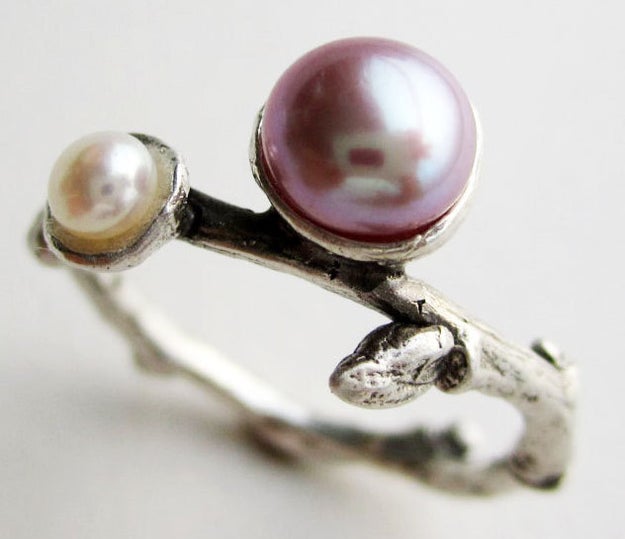 Get it from Every Bear Jewel on Etsy for $99.
12. A black onyx ring that matches your dark humor and outlook on life.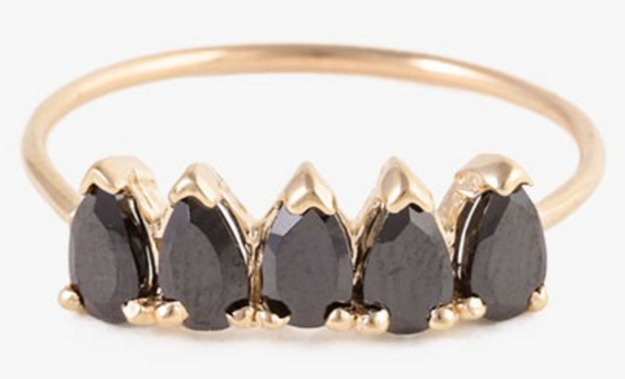 Even comes in teardrop form for you. It knows.Get it from Loren Stewart on Azalea for $350. Also available in opal.
13. A nature-inspired green turquoise ring that will never leaf you hanging.
Although they could also pass off as lop-sided bunny ears, your pick.Get it from Oore on Etsy for $580.
14. A sophisticated amethyst ring that won't play second fiddle to any other ring.
In case you dare to stack it.Get it from Arik Kastan on Anthropologie for $928.This design is also available with other jewels on his site.
15. A rose quartz and moissanite ring that confirms that four is not a crowd.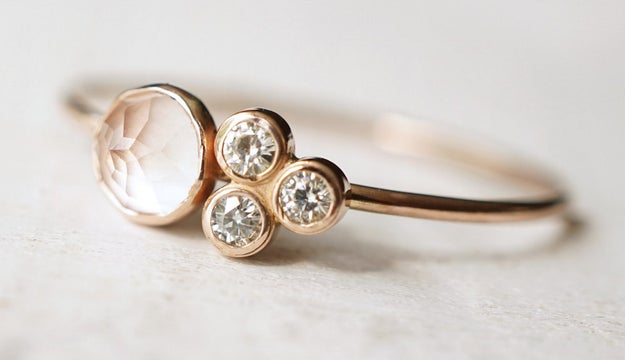 Get it from Luxuring on Etsy for $250.
16. A dainty opal ring that'll win over your real heart.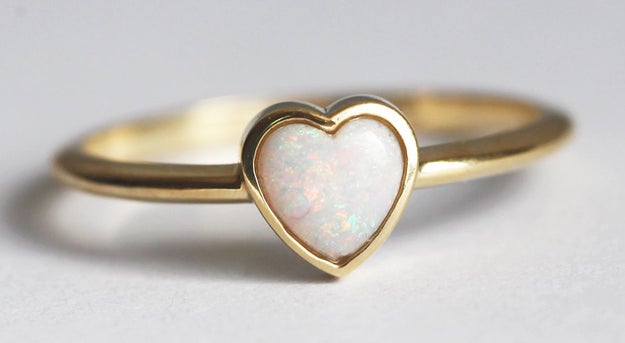 Get it from Minimal VS on Etsy for $330.
17. Or perhaps, an entire band of hearts?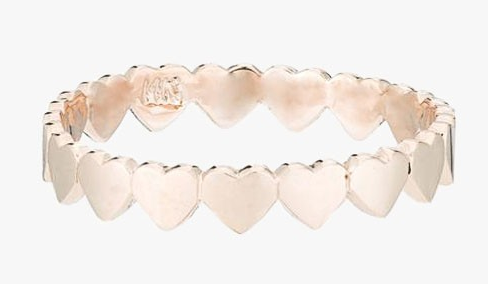 You can never have too many.Get it from Ariel Gordon on Azalea for $285. Also available in gold.
18. A white topaz and ruby ring that mirrors your happy tears.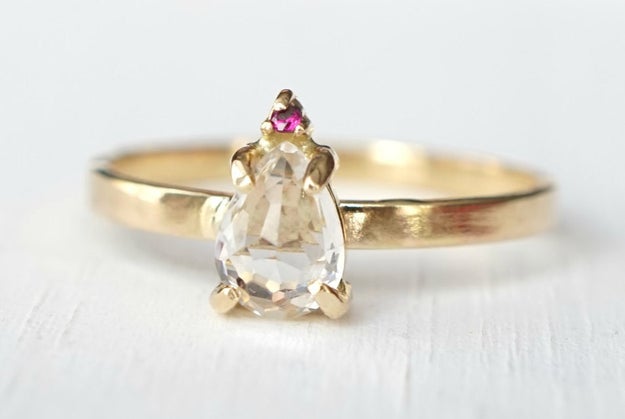 And by "mirrors," I mean "transforms them into precious gems."Get it from Luxuring on Etsy for $380.
19. An open-ended sapphire ring that definitely stands for compromise.
Someone's gotta give a little in order to meet in the middle, ya know?Get it from Shala Karimi on AHA Life for $450.
20. A classy marquise-shaped ring that gifts you three pearls of wisdom.
Listen up.Get it from Capucinne on Etsy for $250+.
21. A polished amethyst ring for people who dream of having a vault of *purple* bars.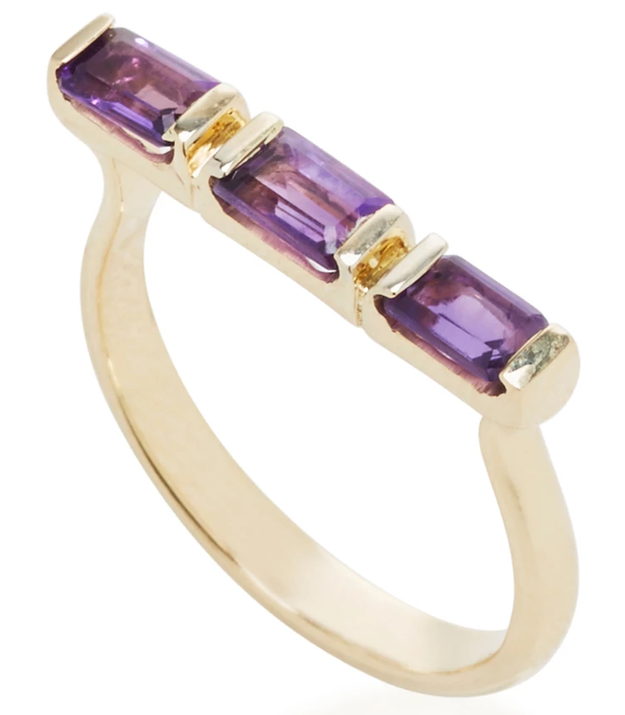 Well, preferably bars of amethyst and gold.
Get it from Eden Presley on Moda Operandifor $800.
22. A gorgeous opal ring intertwined in ribbons of gold.
Thankfully, the band is much sturdier than a ribbon.Get it from Doron Merav on Etsy for $375.
23. A graceful basket-set ring that'll match your pearly whites perfectly.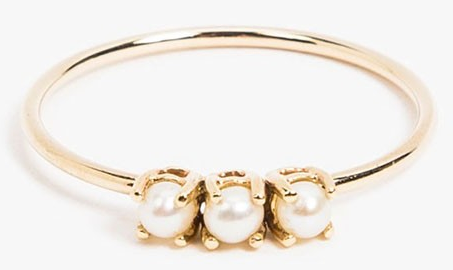 Since you'll be grinning ear-to-ear whenever you wear this.Get it from Jenni Kwon on Azalea for $374.
24. A chunky pyrite ring that's reflective of a loving relationship.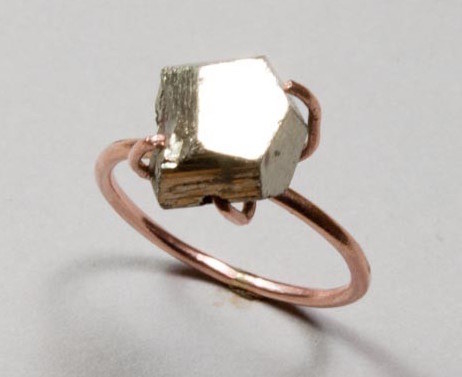 Get it fom Jen Cervelli on Etsy for $325.
25. A baby version of #13 for someone who prefers a subtler opal.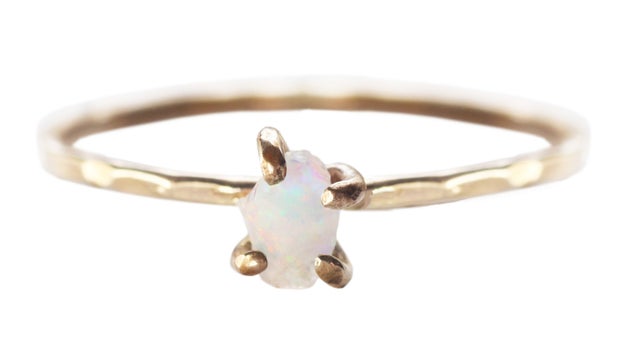 The claws are basically a booster seat.Get it from Sara Reynolds Jewelry on AHA Life for $220.
26. A v-shaped ring that has all its ducks — I mean, pearls — in a row.
Get it from The Flying Fox Arts on Etsy for $1,008.69.
27. A sapphire and sunstone soleil ring that always points in the direction of true, everlasting love.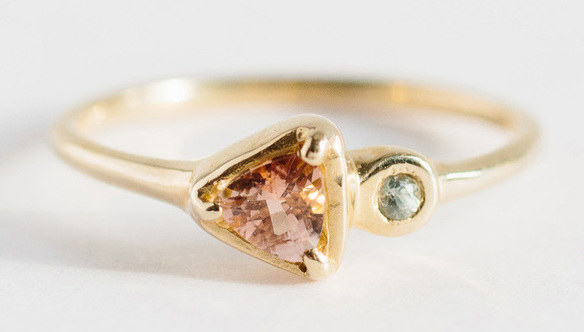 You think I'm joking.Get it from Kathryn Bentley on Of a Kind for $390.
28. A stacked sapphire ring that looks like a row of miniature baseball diamonds.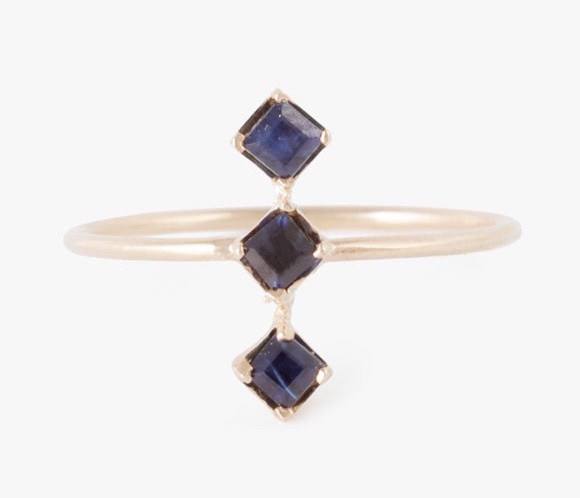 Third base = getting engaged.Get it from Loren Stewart on Azalea for $333.
29. A rainbow UFO-like ring that's made up of too many gemstones to list out.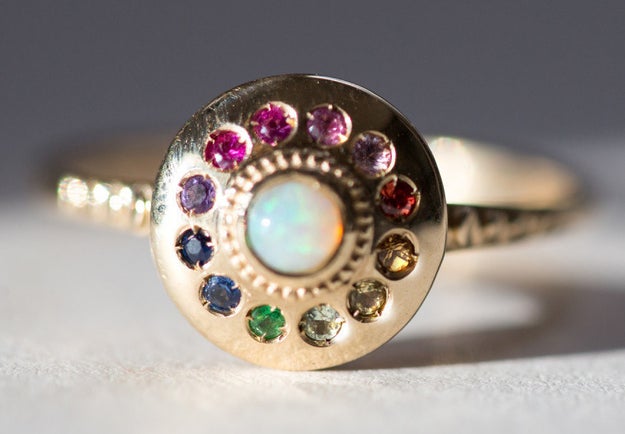 Ok, FINE: ruby, amethyst, peridot, tsavorite, and a bunch of sapphires in blue, yellow, orange, and pink.Get it from Morphe Jewelry on Catbird for $1,200.
30. A simple rose gold knot ring for people who could care less about the bells (gems) and whistles (minerals).
Get it from Ball and Chain on Etsy for $350.
31. And a copper ring fashioned with colorful garnets that is both budget-friendly and unique.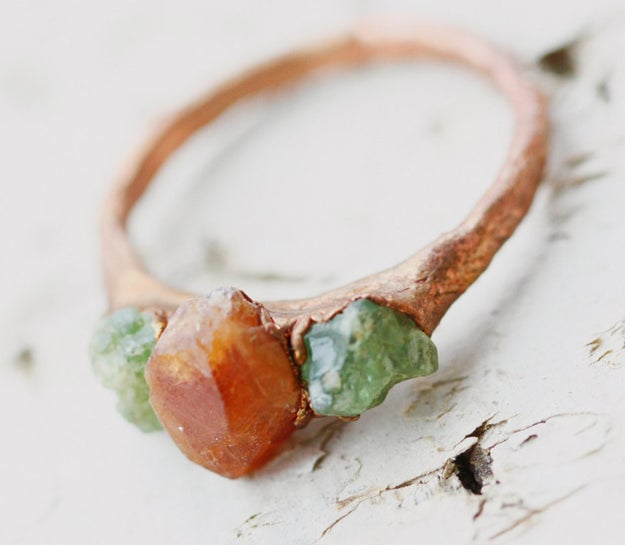 etsy.comThe winning combination, tbh.Get it from Little Sycamore on Etsy for $50+.
Maureen Santos
She lets everyone become aware of what is happening to our beloved planet Earth and its inhabitants. She can take you beyond the space and find out how neighbor planets are doing. Moreover, she would open your eyes to the things what makes the Earth suffer including the living species and allow you to decide what you can do to help save the planet and the future generation.