Mr. Trash Wheel is the world's first permanent water wheel trash interceptor, to clean up the city's polluted Inner Harbor. The Jones Falls river watershed drains fifty-eight square miles of land outside of Baltimore and is a significant source of trash that enters the harbor. Garbage collected by Mr. Trash Wheel could come from anywhere in the Jones Falls Watershed area.
How does it work?
The wheel moves continuously, removing garbage and dumping it into an attached dumpster using only hydro and solar renewable power to keep its wheel turning. It has the capability to collect 50,000 pounds of trash per day, and has removed more than 350 tons of litter from Baltimore's landmark and tourist attraction in its first 18 months, estimated as consisting of approximately 200,000 bottles, 173,000 potato chip bags and 6.7 million cigarettes butts. The water wheel has been very successful at trash removal, visibly decreasing the amount of garbage that collects in the harbor, especially after a rainfall.
Baltimore's Inner Harbor Water Wheel, or "Mr. Trash Wheel" to locals, combines old and new technology to harness the power of water and sunlight to collect litter and debris flowing down the Jones Falls River.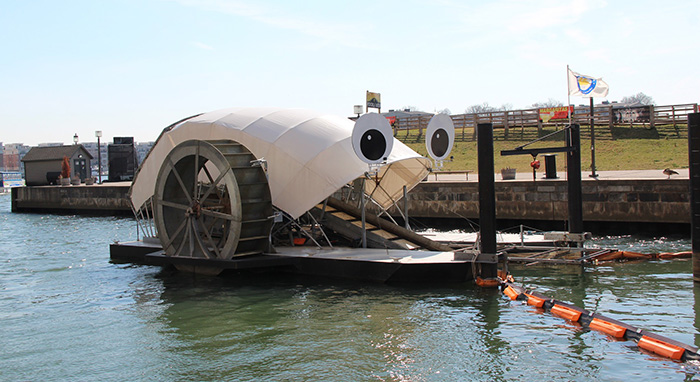 Credit: Waterfront Partnership of Baltimore
The river's current provides power to turn the water wheel, which lifts trash and debris from the water and deposits it into a dumpster barge. When there isn't enough water current, a solar panel array provides additional power to keep the machine running.
When the dumpster is full, it's towed away by boat, and a new dumpster is put in place.
According to Waterfront Partnership of
Baltimore, Mr. Trash Wheel has removed more than one million pounds of garbage and debris since it launched in 2014.
Watch this video below:
https://www.youtube.com/watch?v=etUu3s3kO2M
via Sunnyskyz.com
Maureen Santos
She lets everyone become aware of what is happening to our beloved planet Earth and its inhabitants. She can take you beyond the space and find out how neighbor planets are doing. Moreover, she would open your eyes to the things what makes the Earth suffer including the living species and allow you to decide what you can do to help save the planet and the future generation.