In the near future, taking a dip in the ocean could be more like thrashing in the ball pit at McDonald's. A conservative estimate puts more than 5 trillion pieces of plastic in the seas, degrading into ever-smaller fragments but never decomposing and fatally clogging the guts of birds, whales, and many other creatures who mistake it for food.
Now Londoners out taking a stroll can get a nauseating reminder of the ravages of oceanic pollution, via Jason deCaires Taylor's new public artwork "Plasticide." The concrete sculpture, which sits by the National Theatre, presents a family of four on a beach picnic, the parents smiling blissfully while surrounded by a flock of seagulls vomiting plastic. (The puke is actually made from trash found around the Spanish island of Lanzarote.) The despondent children look less oblivious—perhaps an indication they know this will be their generation's problem next.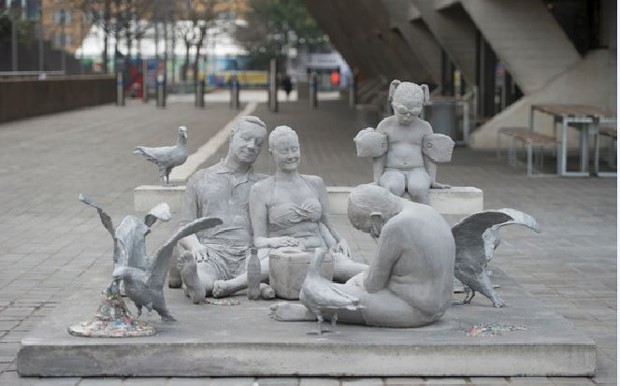 "Plastic pollution is one of the greatest threats facing our oceans," says Luke Massey at Greenpeace, which partnered with deCaires Taylor for the project. "An estimated 12 million tons of plastic enters the ocean every year. Some of that is microplastics from cosmetics and personal-care products, but the vast majority is so-called macroplastics, the big stuff like plastic bottles, packaging, and bags."
The artist is no stranger to ocean-themed public art—deCaires Taylor was the man behind that surreal, sunken museum in the Canary Islands. "Jason's work is unique: He is an artist working with the ocean as his canvas," Massey says. "Given Greenpeace's campaigns on ocean plastics, it was a natural fit to work together."
For folks who can't make it to London to check out "Plasticide," don't worry—real garbage-vomiting animals are coming soon to a city near you. Plastic has been found in as much as 90 percent of seabirds, according to a recent study; by 2050 it's expected to clutter the guts of virtually every seabird.
Efforts to clean up the spectacular amounts of debris in the world's oceans, most famously the "Great Pacific Garbage Patch" that haunts the waters between Japan and the West Coast of the U.S., involve mostly speculative methods. The only truly effective fix at this point, unfortunately, involves throwing less plastic crap in the water.
"All plastic is made on land and it's here that we need to see action," says Massey, who thinks a "good start" would be manufacturers drastically reducing the production of single-use plastic bottles. "'Plasticide' speaks to mankind's culpability for ocean plastic pollution. We hope that people see it as a call to arms that unless we act fast, the impact on marine life could be irreparable."
via Citylab.com
Maureen Santos
She lets everyone become aware of what is happening to our beloved planet Earth and its inhabitants. She can take you beyond the space and find out how neighbor planets are doing. Moreover, she would open your eyes to the things what makes the Earth suffer including the living species and allow you to decide what you can do to help save the planet and the future generation.