Do you know how nutrition plays a huge role in human's body?
Growing up, we all know how important it is to provide enough and right nutrition to our body. It is necessary to maintain a healthy body which is basically one of the most important things in life.
Without studies, just using basic common sense, we all know how important it is to maintain a healthy body. As what the popular quote says, "Health is wealth."
Abstract
More than one-third of American adults are obese and statistics are similar worldwide. Caloric intake and diet composition have large and lasting effects on cognition and emotion, especially during critical periods in development, but the neural mechanisms for these effects are not well understood. A clear understanding of the cognitive–emotional processes underpinning desires to over-consume foods can assist more effective prevention and treatments of obesity. This review addresses recent work linking dietary fat intake and omega-3 polyunsaturated fatty acid dietary imbalance with inflammation in developing, adult, and aged brains. Thus, early-life diet and exposure to stress can lead to cognitive dysfunction throughout life and there is potential for early nutritional interventions (e.g., with essential micronutrients) for preventing these deficits. Likewise, acute consumption of a high-fat diet primes the hippocampus to produce a potentiated neuroinflammatory response to a mild immune challenge, causing memory deficits. Low dietary intake of omega-3 polyunsaturated fatty acids can also contribute to depression through its effects on endocannabinoid and inflammatory pathways in specific brain regions leading to synaptic phagocytosis by microglia in the hippocampus, contributing to memory loss. However, encouragingly, consumption of fruits and vegetables high in polyphenolics can prevent and even reverse age-related cognitive deficits by lowering oxidative stress and inflammation. Understanding relationships between diet, cognition, and emotion is necessary to uncover mechanisms involved in and strategies to prevent or attenuate comorbid neurological conditions in obese individuals.
Introduction
Cognitive and emotional dysfunctions are an increasing burden in our society. The exact factors and underlying mechanisms precipitating these disorders have not yet been elucidated. Next to our genetic makeup, the interplay between specific environmental challenges occurring during well-defined developmental periods seems to play an important role. Interestingly, such brain dysfunction most often co-occurs with metabolic disorders (e.g., obesity) and/or poor dietary habits; obesity and poor diet can lead to negative health implications including cognitive and mood dysfunctions, suggesting a strong interaction between these elements (Fig. 1). Obesity is a global phenomenon, with around 38% of adults and 18% of children and adolescents worldwide classified as either overweight or obese.1 Even in the absence of obesity, poor diet is commonplace,2 with, for instance, many eating foods that are highly processed and lacking in important polyphenols and anti-oxidants or that contain well-below the recommended levels of omega-3 polyunsaturated fatty acids (PUFA). In this review, we will discuss the extent of, and mechanisms for, diet's influence on mood and cognition during different stages of life, with a focus on microglial activation, glucocorticoids and endocannabinoids (eCBs).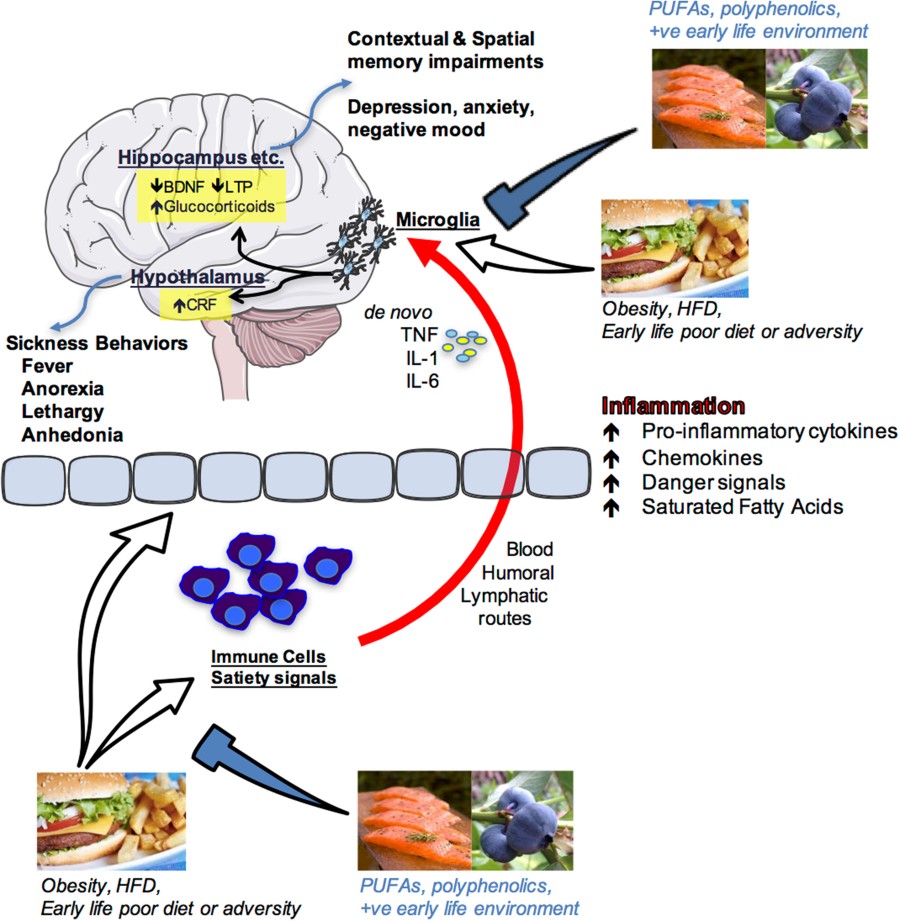 Maureen Santos
She lets everyone become aware of what is happening to our beloved planet Earth and its inhabitants. She can take you beyond the space and find out how neighbor planets are doing. Moreover, she would open your eyes to the things what makes the Earth suffer including the living species and allow you to decide what you can do to help save the planet and the future generation.